Wild Places
(Back to Photo Gallery)
---
Yes, that is a person dangling in the void. This is a tyrolean traverse we set up at Smith Rock in Oregon. The rock pillar is called Monkey Face.
This is the view I got while paragliding near Benton City, WA. The Yakima River is beneath my feet and highway I-82 is along the upper right corner. I flew about two miles and reached altitudes of over 2000 feet above the ground.
This is the view I got by rock climbing over 300 feet up a pinnacle at Smith
Rocks in Central Oregon. The Crooked River flows around three sides of the rock.
This is what happens when you take a blue wig, an orange jumpsuit, and a photographer backpacking.
This is my brother Seth watching my friend Daniel do a flip off the roof of a rest area. On this trip we cross-country skied eight miles out to Washington Pass in the North Cascades.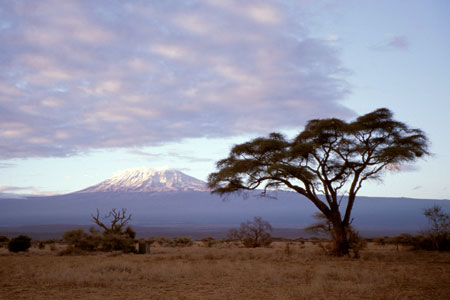 Mt. Kilimanjaro (19,340 ft.) in northern Tanzania.
I visited this place on a trip to Central Oregon. It's called Crack-in-the-ground.
Mt. Kenya (17,058 ft.). Mackinder's hut is in the foreground at about 14,000 ft.
Nalgene. Goes where you go.
The Moon - it's a wild place.
(I took this picture through my dad's spotting scope.)
(Back to Photo Gallery)
---
Last updated March 27, 2003