"Tomorrow I leave for Sudan"
Approximately April 15, 2001

Tomorrow night I leave for the primitive land of South Sudan. South Sudan is currently at war with North Sudan, which has something to do with Muslims, Communists, and multiple coups over the last fifty years. The war isn't a very active one because war costs money, and neither side has

very much. ADRA has pulled its people out of South Sudan while the UN still maintains a presence. From what Jabel tells me, South Sudan is a primitive place. Few people have adequate clothes. A man wearing nothing but a shirt was seen clothes shopping. For some reason he bought another shirt instead of a pair of pants. Soldiers have been spotted wearing nothing but a gun.

"All I could see were Caleb's eyes getting bigger and bigger..."
April 20, 2001

I had an uneventful bus ride from Kampala up to Arua, and then an interesting minibus ride to the Sudan/Uganda/Congo border from there. The driver insisted that I sit in the front seat over the engine. I usually avoid this seat, as it is known as death row in case of an accident, but it was a short ride and the extra room was nice. The vehicle had seen better days - the ignition switch was
Jabel and Danny
in front of our hut

just three wires. Twist two together, touch the third, and you're off! Halfway to the Sudanese border the engine overheated, so we all piled out onto the Congo side of the road. After half an hour of tinkering we were back on our way to the border. When I got out of my seat there was a FWOOSH and boiling water sprayed out under the minibus. It scared one lady so bad that she dropped her box of fish all over the ground. Apparently my seat had been holding the radiator cap on.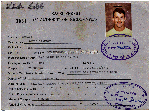 My permit
(Click for larger)

After waiting a few hours, Caleb and Greg arrived to meet me at the border. I had to wait for them because they had my permit for entering the rebel territory of South Sudan. They had spent the last two days hitchhiking 150 miles to get me. One truck they rode on had no brakes and no clutch. We got lucky the next day and caught a lift with a Medicins sans Frontiers (Doctors without Borders) Land Cruiser. It was brand new and they were delivering it to the front lines to battle an outbreak of African Sleeping Sickness. The driver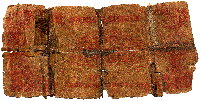 Sudanese currency doesn't get
renewed in the rebel territory.
(Click for larger)

was in a hurry. We rounded one corner at 50+ MPH only to find a tree fallen across the road. The driver barely swerved around it, but this sudden move started us fishtailing. Back and forth we slid, each time more wildly. I was thrown into a position facing backwards, and all I could see were Caleb's eyes getting bigger and bigger. By the time we slowed down we were driving up on the embankment on either side of the road. I think MSF stands for Doctors without Speed Limits.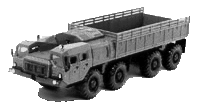 The 8X8 Truck

South Sudan is quite primitive, as it has been cut off from the North since the latest rebellion which started in 1983. Yei, the provincial capital, consists mostly of thatch-roofed huts and a few shot up or bombed out brick buildings. This rebel territory doesn't have running water or electricity anywhere. All the roads are dirt and in very bad condition. One 16-mile stretch of road took us two hours. The UN trucking company uses some brutal 8X8 trucks - 8 wheel drive and all four of the front wheels steer.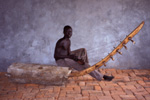 Bass Harp

I've only been at camp for a few hours and I've already fallen in love with this place. Everyone (including us) lives in thatch-roofed mud huts. Mangos grow wild. Tonight the villagers practiced music for church tomorrow. They played beautiful harps - three small ones and one really big bass harp. The cutest little boy in a loincloth played the bass quite beautifully. This place is truly Africa.

"He decided to settle the quarrel with his AK-47"
April 26, 2001

Well, last night I found the darker side of this Eden. Our neighbor had a quarrel with his wife and decided to try settling it with his AK-47. I heard about a dozen shots fired from a hundred yards away, some on semi-automatic and some on full. One of our guys saw the flashes from the gun barrel. Fortunately the wife got a head start on the bullets, and she escaped to the bush unharmed.

It seems like every man in Sudan has a machine gun. I guess it's just in case the war comes to their area. I once saw a man with a baby on his back and a machine gun on his shoulder, what a combination!

"Apparently she just died"
May 4, 2001

This evening we heard distant sounds of mourning and wailing. One of the pastor's had a six-month old daughter that had been sick with malaria. Apparently she just died. Violet, our cook, says that AIDS is one of the lesser worries here in Sudan. The big killers here are malaria and sleeping sickness (not to mention war and famine). Violet told us about the Ebola outbreak of 1976. Her brother caught it and died, then her father got it from her brother's body, but lived.