---
This recipe is easy, adaptable, and yummy.
Materials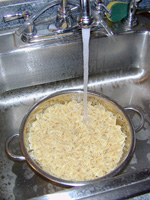 Rinsing keeps the pasta from sticking together
Bowtie Pasta, cooked and rinsed (Farfalle?)
Two lemons, squeezed
1/2 cup olive oil
Cherry tomatoes, sliced in half
Olives, sliced in half
Avecados, cubed
Bell pepper, diced
Frozen sweet corn, cooked
Feta Cheese, crumbled
Onion and garlic, diced and sauteed
Fresh or dried Basil, Oregano, and Dill, crushed
Methods
Simply mix together in a large bowl.
Results...